As the World begins to ease COVID-19 restrictions on public gatherings, travel, and the entertainment industries, businesses are looking forward to how to do this confidently and safely. The largest immunization movement in history is providing one level of confidence, however it will be a long and slow process until global population has herd immunity. There are various ways to prove vaccination or negative tests to prove a person is healthy, yet there are limited ways to properly demonstrate and memorialize health status efficiently and securely. Unfortunately, as a society we are still reliant upon oversized vaccination cards and repetitive manual processes which unnecessarily expose sensitive personal information and are prone to fraud and counterfeiting.
What are the benefits of a health pass?
A simple, and secure health pass allows people to return to public gatherings with the knowledge and confidence that they are doing so safely. Digital health passes will not only benefit the public in feeling more secure and safe, but it will also benefit the economy. The consequences on the economy due to COVID-19 have been overwhelming, with many industries – tourism, travel, entertainment – having to either close or reduce significantly. Digital health passes would allow industries to reopen confidently with increased capacity as the threat of the virus spreading would be reduced; it offers a less restrictive means to relax COVID-19 preventive measures such as quarantines, business closures, and stay-at-home orders.
4 Considerations for Businesses when reopening/returning to work:
Articulate your risk and coordinate with your practices.

There is no single standard approach for reopening, and every situation is unique. However, if you can clearly demonstrate your approach and associated evidence that safe health practices are being followed, you should be able to increase capacity and remain in compliance with public health best practice guidance.

Use simple, readily available technology.

One of the most convenient uses of technology for businesses, venues, events and universities is

the use of QR codes to scan for validation at the time of admission. By using a QR code, your venue can view health status information (e.g., vaccination records) with no need to store the information. An immutable, transparent report shows the number of attendees, health status and related capacity adjustments. This data is anonymized, and the personal information is not stored or accessed other than to for purposes of validation at time of entry.

Make your public health practices more transparent.

Provide evidence for interested parties that you have taken into consideration all

public safety practices. If possible, make that data available in near real-time to all patrons attending a show. Adjust capacity in real time based on the information provided at time of entry.

Educate, Educate, Educate.

Be prepared to demonstrate both the process that your company/venue has implemented and how safety is maximized while lowering risk to the public. Support that position by using best practices from the Centers for Disease Control. Explain your approach to local officials before opening and provide information in advance to attendees in regards to their health and safety.
What is Verif-y's Solution?
Verif-y has built the following solutions to help organizations seamlessly return to normal operations while addressing best practices for safety and compliance:
V-Travel Pass – Documents needed to travel nationally and internationally.
V-Venue Pass – Documents required to safely increase capacity & access to stadiums, college campuses, concert halls, & office buildings.
V-Health Pass – Documents needed for sharing health-related information such as visiting a new physician, proving the status of vaccination records, current medications, diagnostic images, etc.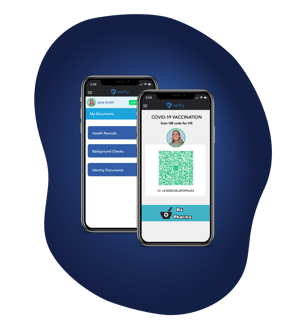 Via the Verif-y Health Pass solution, individuals control and manage their health records. As the individual has already consented to a vaccination and/or test, it then becomes part of their record. They control their own credentials removing risks of data breaches and fraud. Any third parties needing to see these records would simply anonymously 'touch' the data before having the access revoked, making this technology fully compliant with various health and privacy laws (HIPAA, CCPA, GDPR, etc.). Documents are stored via a fully decentralized, SHA256 encrypted, patented technology that exceeds current regulatory guidance with regards to privacy and security.
---
If your organization is looking for a safer and smarter way to return to normal operations, the Verif-y Health Pass solutions cover a diverse set of industries and use cases and is purpose built to help restart safe in-person interaction.