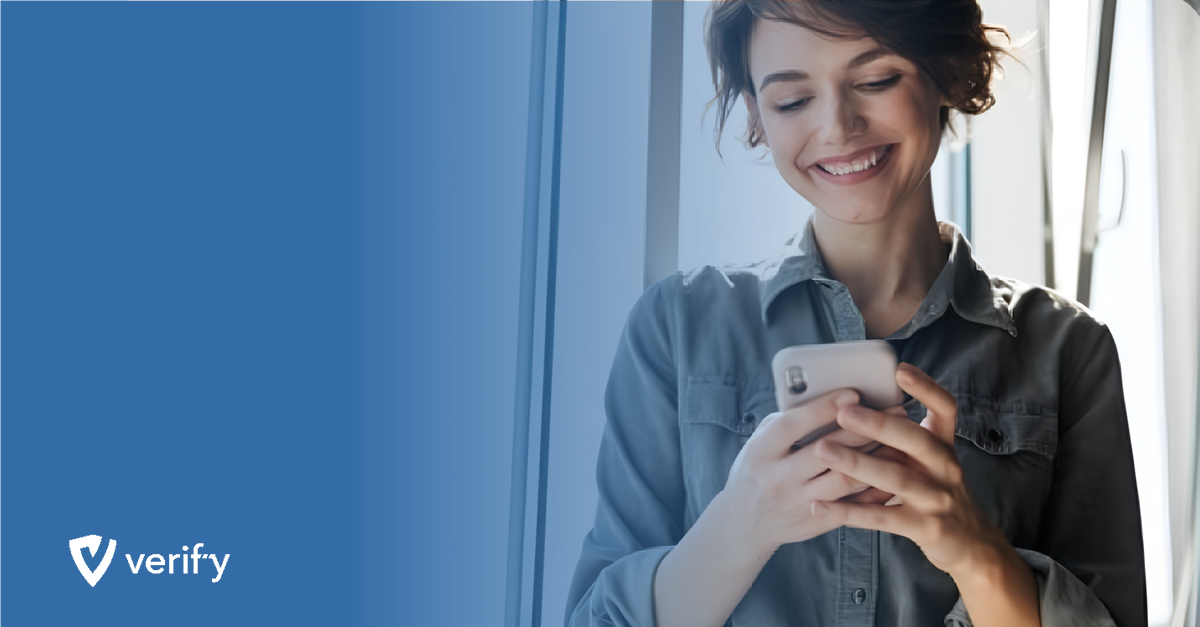 Cybercriminals are rife in today's ever-expanding digital society. Data breaches in 2021 soared past those of 2020, but Verif-y is here to protect your Personally Identifiable Information. Verif-y ensures proving your identity is fast, easy, and secure. Verif-y eliminates manual, difficult and inefficient paper-based identity verification processes by offering automated screening services through four main services: Know Your Customer (KYC), Know Your Business (KYB), Selfie Scanning, and Credit Card Scanning.
Users can seamlessly upload their passports, national IDs, employment and licensing history, and more, by taking a picture with their mobile phones and completing the verification process in seconds. Using Artificial Intelligence (AI), Machine Learning (ML) and proprietary algorithms, Verif-y authenticates these documents in real-time, making the process efficient and seamless. For more information on Identity Verification, download our Complete Guide to Identity Verification.
You can safely, easily, and quickly prove your identity from the comfort of your own home. To get through the process as seamlessly and quickly as possible, follow these simple steps!
1. Use your full legal name
At every point in the process be sure to use your full legal name. This name should match the ID or document you will be providing. Make sure it is spelled correctly
2. Have a valid ID or document ready
Valid IDs include driver's license, passport, or a residence permit. When capturing your passport, it should be the main page with your photo and personal details. Be sure your ID is not physically damaged or expired. Documents can include a utility bill or a diploma depending on what you are being verified for.

3. Have a useable camera and good internet
The use of a smartphone or any mobile device is preferred. You can use the webcam on your computer but make sure the image is clear and try to use the recommended browser for your device. For Android devices it is Chrome, for iPhones and iPads it is Safari, for Mac it is Safari or Chrome, and for a PC it is Chrome or Firefox. To complete verification, it may require you to give temporary access for your camera and microphone. Don't worry it is only during the verification process and it is disabled after!
Also with a fast internet connection, the verification process will be smoother. Please do not refresh the browser during the session.
4. Make sure you have good lighting
Low quality photos are likely to occur in a dark setting and it is difficult to analyze an unclear image. The lighting should be in front of you, not in the background.
5. Remove any headgear or anything that obstructs your face
Please remove your glasses, masks, headphones, hats, or any other headgear. By doing so it will be easier to identify you.
6. No need to hurry, but be fast
The session will be timed so make sure you have your ID ready. The timed session is meant for your protection. Make sure your ID is readable in the photo, the ID or document fits in the frame, and both sides of the ID are photographed. Retake any photos that are poorly lit or blurry. The better the photo, the faster you can be verified.
7. Selfie Verification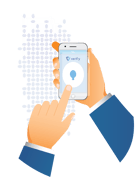 At times you may be asked to take a selfie with your ID or document in the same frame. In the photo, you should be in focus and your entire face should be shown. Also, the ID or document should be readable and fit in the frame.
8. Please go through verification by yourself
Make sure no one else is in the frame of your photo and no one is giving you misinformation. Obviously, it is okay to have assistance but the likeliness of your verification being declined is higher when too many people are involved. If there is any sign of threat, your identification will be rejected.
---
Successful verification is easy with Verif-y! We hope you understand Verif-y's identity verification process better, and be sure to follow these steps to ensure your verification.
If you have any issues with your identity verification process, please contact us at support@verif-y.com.