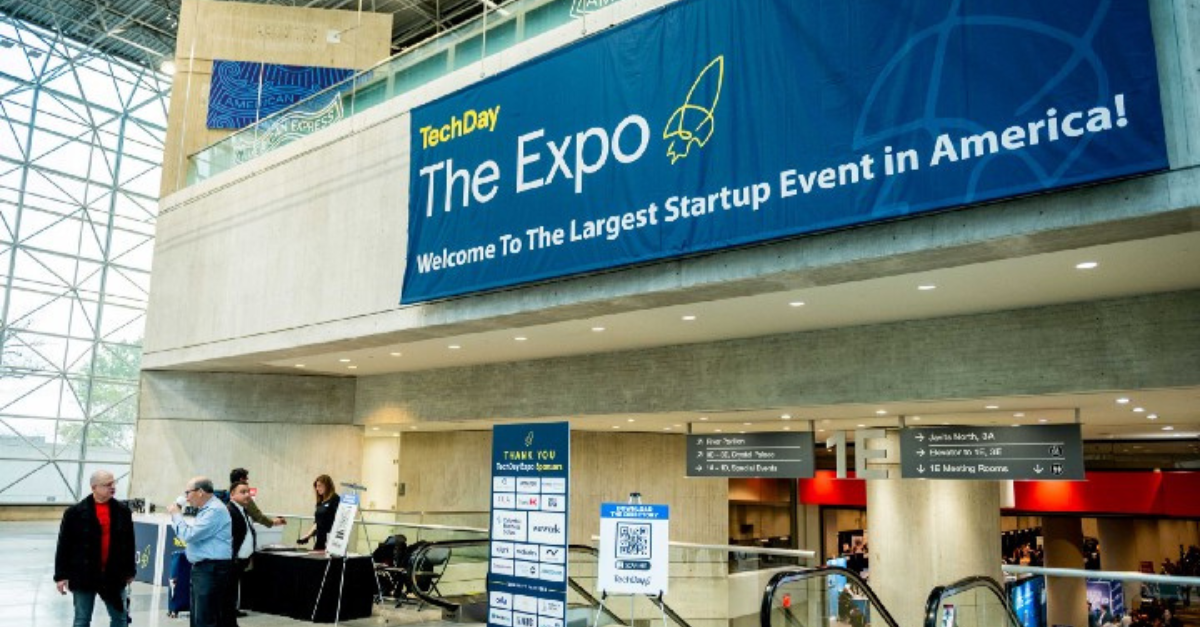 A platform giving families agency-level tools to find and manage care for their loved ones; a chic smart ring designed to save lives by calling 911 when triggered; curated sustainable fashion; and a solution that ensures your identity remains safe by keeping your data secure and in your own hands – what do all these purpose-driven start-ups have in common? They were all thrilled to be back in person and exhibiting at TechDay!
At the kick-off welcome party sponsored by Jackpocket, the gratitude was palpable as TechDay's President Walter Charnizon gathered the sponsors and exhibitors of the event to remind us that although so many of us were thankful for the chance to be back mingling face to face again, none were more so than the hard-hit event organizers that had been delaying this event (and others) for almost three years now.
There was a feeling of camaraderie in the air that continued throughout the event. As the event took place at the expansive Javits Center, there were multiple conferences occurring simultaneously with many attendees bouncing from one to another. The common sentiment among people walking into TechDay was that the vibe was unique compared to the other events in the arena as it was much more welcoming and sociable - making it easier for exhibitors and attendees alike to find the inherent synergy that existed between all of us. Perhaps this was because many of the exhibitors and attendees had the common bond of having attended/attending Columbia Business School; or the fact that it was filled with creative minds brave enough to make the ideas floating in their head a tangible reality; or simply because the variety of all the different types of start-ups at the event inspired natural curiosity and conversation that kept the room abuzz throughout the day. Who knows? But, I can tell you for this seasoned sales professional starting out in a totally new industry, it was a feast for the senses as I truly loved hearing everyone share the different paths that led them to this meeting point, and I soaked in every word learning so much from everyone in attendance!
Coming into the event, I was prepared to meet a handful of good contacts and hopeful to make one solid connection that might lead to a partnership down the road. Since leaving the event, I look back and feel we had interesting conversations with so many potential partners. My brain is still reeling with the many different ways Verif-y can help the savvy business owners we met wishing to solidify their KYC compliance program (especially on the heels of recent events); or the talented developers looking for their next exciting opportunity; or the steady stream of investors who stopped by curious about what sets Verif-y apart from other IDV solutions in the market (for starters, I'd say it's our accuracy – supported by the fact that our mobile SDK & Web API have well over a 90% success rate when scanning identity documents for our newest Fortune 500 remittance client, but I digress).
Speaking of investors, when one of the many helpful TechDay staff members stopped by to check on us and get our feedback about the event, I commented about how we were pleasantly surprised by the number of investors at the event as we weren't expecting there to be any. He proceeded to tell me that that was one of the missions of this event – to provide an audience of investors for the many different levels of start-ups that exhibited. A native Manhattanite (a true rarity in the transplant-heavy Tri-State area, so always something I like to shout out for its uniqueness), he said what better place to find investors than in New York City, the banking capital of the world? Their goal was to take advantage of the natural geography and gather as many investors as possible to meet with the many start-ups that signed up for the event. Mission accomplished!
In the true spirit of the generous mission of the conference, as well as the communal feel that extended throughout the event, I had to sit back and smile as I took in the sights around me when my CEO and I finally had a chance to sit down in the chairs provided after being on our feet chatting with attendees and fellow exhibitors for the entirety of the day. People were starting to dissemble their booths and 'neighbors' were helping in a variety of ways – whether it be by lending a Leatherman to cut zip ties; one's height to reach a tall display; or a phone charger to an admittedly out-of-practice conference exhibitor (full disclosure: that one's me- thanks, Jen, Opal Founder & CEO)! Luckily it didn't die till breakdown). Whatever the method of 'helping hand' given, there was a renewed sense of appreciation to be able to give/receive that help in person – from meeting possible investors/clients to receiving help with a booth set-up. Thank you, TechDay and all who attended! It was a truly exceptional & inspiring event (in every way).